Hey friend! I'm so excited to tell you all about November in Paris. It's such a romantic and beautiful time to visit the city. The cozy atmosphere, the festive events, and the stunning scenery make it an unforgettable experience. So, grab a cup of coffee or tea, and let's dive into why November is the perfect time to travel to Paris!
1. Paris in November: Embracing the Short, Cozy Days
During November, Paris embraces short and cozy days. The city comes alive with a magical charm, and you'll find yourself falling in love with its romantic ambiance. As the weather starts to cool down, you can wrap yourself in warm coats and scarves, savoring the feeling of being in a real-life winter wonderland.
Walking through the charming streets of Paris during this time feels like stepping into a movie set. The soft glow of streetlights illuminates the city, creating a romantic atmosphere that is hard to resist. Whether you're strolling hand-in-hand with your loved one or exploring the city alone, November in Paris is an experience you won't forget.
2. Why November is the Best Time to Travel to Paris
If you're wondering why November is the best time to travel to Paris, let me fill you in on all the reasons. Firstly, the tourist crowds start to thin out, making it easier to explore the city's iconic attractions without the massive queues. You can leisurely wander through the Louvre, take your time climbing the Eiffel Tower, or visit the stunning Notre-Dame Cathedral without feeling rushed.
Another fantastic reason to visit in November is the prices. You'll find more affordable accommodations and flight deals compared to the peak tourist season. With the extra savings, you can treat yourself to delicious French cuisine or shop for unique souvenirs to take back home.
But that's not all! November is also a time when Paris comes alive with festive events and celebrations. The city gears up for Christmas, and you can witness the transformation as it gets adorned with beautiful decorations. Christmas markets pop up all around the city, offering a delightful shopping experience with handcrafted goods, delicious food, and warm mulled wine.
3. Visiting Paris in November: A Complete Guide
Planning a trip to Paris in November? Here's a complete guide to help you make the most of your visit. One essential thing to keep in mind is the weather. November in Paris can be quite chilly, with average temperatures ranging from 6°C to 11°C (43°F to 52°F). So, packing cozy sweaters, scarves, and a warm coat is a must.
While the city experiences some rain during this time, it shouldn't dampen your spirits. Just be prepared with an umbrella or raincoat, and you'll be all set to explore the mesmerizing sights of Paris. Plus, the rain can add a touch of romance to your adventures, especially when you're cozily tucked away in a charming café, sipping on hot chocolate and enjoying the Parisian ambiance.
November in Paris also offers a variety of events and activities to enjoy. Apart from the enchanting Christmas markets, you can attend concerts, art exhibitions, and cultural festivals happening throughout the month. Keep an eye out for the Beaujolais Nouveau wine festival, which takes place on the third Thursday of November. It's a celebration of the new harvest and a fantastic opportunity to taste delicious French wines.
4. The Best Time to Travel to Paris in November
Now that you're all set for your trip to Paris in November, let's talk about the best time to travel. The beginning of the month is generally less crowded, giving you a chance to explore the popular attractions at your own pace. The weather is still relatively mild, making it pleasant to wander around the city.
Mid-November brings a bit more chill in the air, but it's also when the holiday spirit starts to take over the city. The Christmas lights are turned on, and the festive atmosphere becomes more palpable. This is the perfect time to visit the Christmas markets, ice skate at temporary rinks, and enjoy warm pastries from the local bakeries.
Towards the end of November, the city becomes livelier, busier, and the Christmas spirit is in full swing. The streets are adorned with dazzling lights, shop windows are beautifully decorated, and there's a joyful energy that fills the air. It's a magical time to wander through the city, taking in the sights and sounds of the holiday season.
5. Reasons Why Visiting Paris in November is Perfect
Let me give you five reasons why visiting Paris in November is absolutely perfect. Firstly, the city is less crowded compared to the summer months, allowing you to experience the famous landmarks without the overwhelming tourist crowds. Imagine having the Louvre or the Champs-Élysées all to yourself, or at least with fewer people around.
Secondly, the fall foliage in November adds a burst of vibrant colors to the cityscape. The parks and gardens of Paris transform into picturesque scenes, making it an ideal time for long walks and picnics amidst nature. You can visit famous spots like Jardin des Tuileries or Parc des Buttes-Chaumont and witness nature's beauty in full bloom.
Thirdly, November is the time when Parisians celebrate their love for food and wine. You can indulge in mouthwatering meals at cozy bistros, try traditional French dishes, and discover hidden gems in local neighborhoods. Don't forget to pair your exquisite meals with a glass of fine French wine for a truly authentic culinary experience.
Fourthly, November is the start of the cultural season in Paris. Theaters, opera houses, and concert venues open their doors to a wide range of performances. Whether you're a fan of classical music, ballet, or contemporary art, you'll find plenty of options to suit your taste. Catching a show or performance in the City of Light is a top-notch way to immerse yourself in its rich cultural scene.
Last but not least, November marks the beginning of the holiday season in Paris. The city is adorned with dazzling lights, decorations, and Christmas markets. You can shop for unique gifts, taste delicious treats, and soak up the festive spirit that fills the streets. It's truly a magical time to be in Paris and experience the joy of the holiday season.
6. Amazing Things To Do in Paris During November
When you're in Paris during November, there are so many amazing things to do and explore. Apart from the obvious attractions like the Eiffel Tower and Louvre Museum, here are a few unique experiences to add to your itinerary.
One of the must-visit places during this time is Montmartre. This charming neighborhood is known for its artistic history and bohemian vibes. Take a walk through the narrow cobblestone streets, visit artist studios, and enjoy panoramic views of the city from the steps of the iconic Sacré-Cœur Basilica.
If you're a fan of vintage and antiques, head to the Marché aux Puces de Saint-Ouen. It's the largest flea market in the world, offering a treasure trove of unique finds. From furniture and clothing to vintage books and artwork, you'll discover plenty of hidden gems to take back home as souvenirs.
Another fantastic activity is to explore the city's culinary scene through a food tour. Join a knowledgeable guide and embark on a gastronomic adventure through the local markets, bakeries, and cafes. You'll get to taste delicious French delicacies and learn about the history and culture behind each dish.
An essential part of any Paris trip is experiencing the world-famous French pastries. During November, warm yourself up with a cup of hot chocolate and indulge in freshly baked croissants, macarons, and other sweet treats. Head to renowned patisseries like Ladurée or Pierre Hermé, and let your taste buds experience sheer bliss.
7. Paris Events in November 2022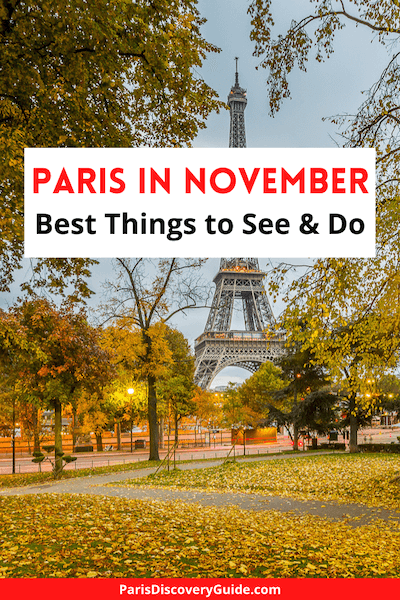 Let's take a look at some of the exciting events happening in Paris during November 2022. Whether you're into art, music, or cultural festivals, there's something for everyone to enjoy.
One of the most anticipated events is the Salon du Chocolat, a chocolate lovers' paradise. This international chocolate fair showcases the finest chocolate creations and offers tastings, demonstrations, and workshops. If you have a sweet tooth, it's an event you shouldn't miss.
For fashion enthusiasts, November brings the Paris Fashion Week. Designers, models, and influencers from all around the world gather to showcase the latest trends and collections. Even if you're not attending the shows, you can still soak up the fashionable vibes by exploring the chic neighborhoods and flagship stores of iconic fashion brands.
Music lovers will be thrilled to know that November is packed with incredible concerts and performances. From classical symphonies at the Philharmonie de Paris to contemporary gigs at intimate venues like La Cigale, there's a concert to suit every taste. Keep an eye on the concert listings and book your tickets in advance for an unforgettable musical experience.
Additionally, November marks the beginning of the holiday season in Paris. The city gets adorned with stunning Christmas decorations, and you can witness the lighting of the Champs-Élysées or the impressive Christmas tree at Galeries Lafayette. The festive spirit is contagious, and you'll feel the joy in the air as you stroll through the streets of Paris.
8. What to Do and Where to Go in Paris in November
When in Paris during November, your options for things to do and places to go are endless. Here are a few highlights that you shouldn't miss during your visit.
Start your exploration with a visit to the iconic Eiffel Tower. You can take an elevator ride to the top and enjoy panoramic views of the city from its observation decks. As the sun sets, you'll witness the magical twinkling lights that adorn the tower, creating a truly mesmerizing scene.
Another must-visit spot is the Louvre Museum, home to thousands of works of art, including the famous Mona Lisa. Take your time exploring the vast collection and marveling at masterpieces from different periods and cultures. If you're an art lover, November in Paris is the perfect time to immerse yourself in the rich artistic heritage of the city.
For a unique experience, venture into the Catacombs of Paris. These underground ossuaries hold the skeletal remains of millions of Parisians, creating an eerie yet fascinating atmosphere. It's an offbeat attraction that provides a glimpse into the city's macabre past.
To escape the hustle and bustle of the city, head to the beautiful gardens of Paris. As November brings fall foliage, parks like Jardin du Luxembourg and Parc Monceau transform into breathtaking landscapes. Take a leisurely stroll, find a cozy bench, and enjoy the tranquility amidst nature.
9. Best Places to Stay in Paris in November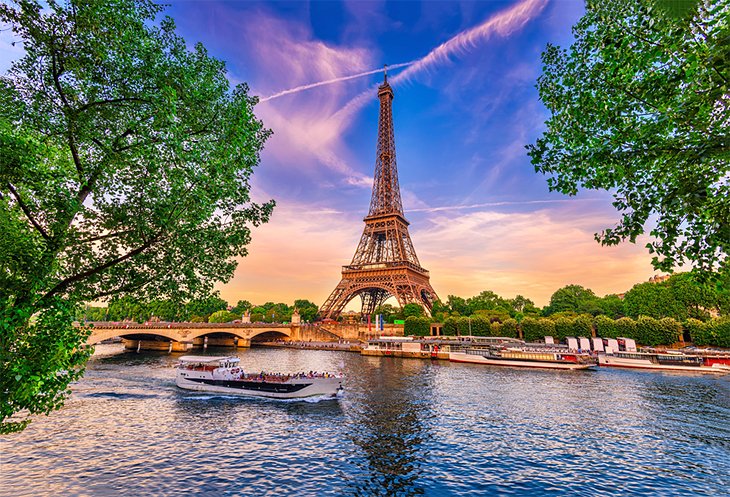 Choosing the right accommodation is essential for a memorable stay in Paris. Here are some of the best places to consider when planning your November trip.
If you're looking to stay in the heart of the city, the neighborhoods of Marais and Saint-Germain-des-Prés are ideal choices. Marais offers a mix of historic charm and trendy vibes, with its narrow streets lined with boutique shops and lively cafés. Saint-Germain-des-Prés, on the other hand, is known for its literary history and is perfect for art enthusiasts.
For those seeking a more luxurious experience, consider staying near the Champs-Élysées or the Eiffel Tower. These areas offer breathtaking views, upscale shopping options, and world-class dining experiences. You'll be surrounded by the glamor and elegance that Paris is famous for.
If you prefer a bohemian and artistic atmosphere, Montmartre is the place to be. This vibrant neighborhood is bursting with creativity, and you can immerse yourself in the world of art, music, and literature. Plus, you'll have easy access to the famous Sacré-Cœur Basilica and breathtaking views of the city.
No matter where you choose to stay, Paris offers a wide range of accommodations to suit every budget and preference. Whether you opt for a luxurious hotel, a cozy boutique guesthouse, or a charming Airbnb apartment, you'll find the perfect place to call home during your stay in the City of Light.
10. Paris in November: A Magical Experience
In conclusion, visiting Paris in November is truly a
If you are searching about Paris in November 2022: What to do, Events & What's On | solosophie you've visit to the right web. We have 30 Images about Paris in November 2022: What to do, Events & What's On | solosophie like Paris in November: What to do, Where to go & What's On | solosophie, 19 Best Places to Travel in November | PlanetWare and also What to do in Paris in November #novemberinparis #shoulderseason #. Here it is:
Paris In November 2022: What To Do, Events & What's On | Solosophie
www.solosophie.com
solosophie
19 Best Places To Travel In November | PlanetWare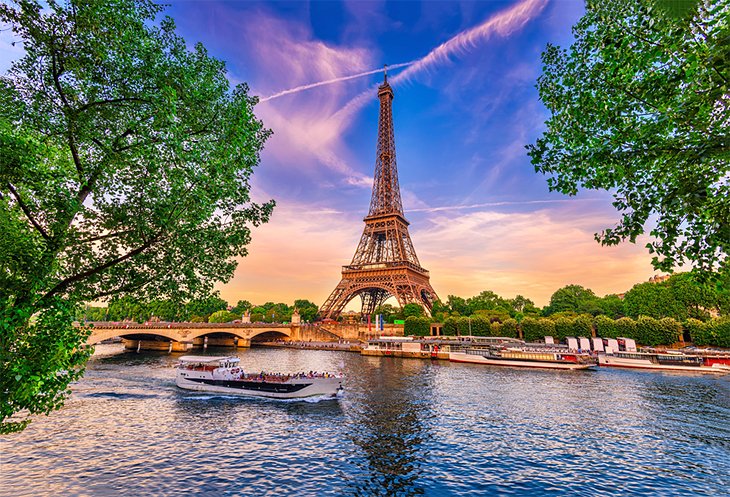 www.planetware.com
planetware eiffel
Visiting Paris In November - A Complete Guide
www.tripsavvy.com
paris november visiting
November Is The Best Time To Travel To Paris. Here's Why. | Paris In
www.pinterest.com
paris november france travel why louvre
5 Reasons Why Visiting Paris In November Is Perfect - Blond Wayfarer
blondwayfarer.com
paris november visiting
The Best Things To Do In Paris | December 2022 | Paris Insiders Guide
www.pinterest.com
parisinsidersguide
Amazing Things To Do In PARIS During November | Paris In November
br.pinterest.com
5 Reasons Why Visiting Paris In November Is Perfect - Blond Wayfarer
blondwayfarer.com
paris november visiting christmas fix early
Paris In November: What To Do, Where To Go & What's On | Solosophie
www.solosophie.com
solosophie
Things To Do In Paris In November By Discover Walks
www.discoverwalks.com
Parfait! 5 Reasons To Visit Paris In November - Blond Wayfarer
blondwayfarer.com
paris november visit reasons visiting blondwayfarer
Parfait! 5 Reasons To Visit Paris In November - Blond Wayfarer
blondwayfarer.com
paris november visit reasons parfait tripadvisor hotel book
Paris In November: Why To Embrace The Short, Cozy Days - Paris Unlocked
www.parisunlocked.com
embrace
Top Things To Do In Paris | November 2019 | Paris Insiders Guide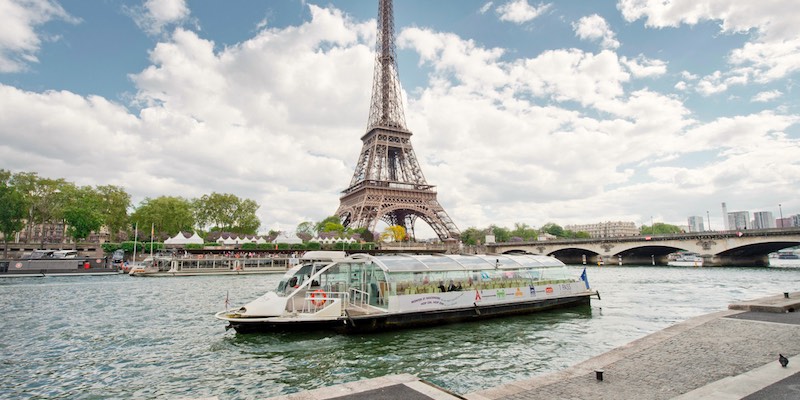 www.parisinsidersguide.com
paris city november tours things tower eiffel guide tour river
5 Reasons Why Visiting Paris In November Is Perfect • Blond Wayfarer
www.pinterest.com
visit paris november visiting why travel
What To Do In Paris In November #novemberinparis #shoulderseason #
www.pinterest.com
Things To Do In Paris In November
www.discoverwalks.com
paris november things garden parisian walk
Paris In November | Things To Do, Festivals, Events, Essentials | Guide
www.pinterest.com
Parfait! 5 Reasons To Visit Paris In November - Blond Wayfarer
blondwayfarer.com
paris november visit reasons parfait
Paris In November - YouTube
www.youtube.com
paris november
5 Reasons Why Visiting Paris In November Is Perfect - Blond Wayfarer
blondwayfarer.com
paris november visiting weather comfortable
Paris In November | Things To Do, Festivals, Events, Essentials | Guide
www.pinterest.com
Paris In November | Paris In November, Paris, Paris France Travel
www.pinterest.com
Top Seven Things To Do In Paris During Christmas Time - Backpacks
backpacksandcountries.com
Paris In November: What To Do, Where To Go & What's On | Solosophie
www.pinterest.fr
solosophie
Eight Of The Best Things To Do In Paris This December - The Local
www.thelocal.fr
france afp
Paris: Top 5 Free Things To Do In November | Budget Travel
www.budgettravel.com
lugares turistum mybudgettravel
November Is The Best Time To Travel To Paris | Fall Vacations, Paris
www.pinterest.com
travelandleisure
Paris Events November 2022 - Things To Do - Paris Discovery Guide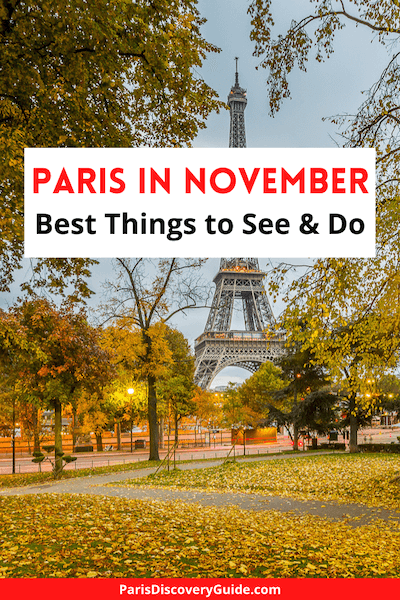 www.parisdiscoveryguide.com
eiffel
Photos, Music 'n More: Paris In November
joedonohue.blogspot.com
paris november music
Things to do in paris in november by discover walks. Paris in november 2022: what to do, events & what's on. Parfait! 5 reasons to visit paris in november