Hey there, my friend! Today, I want to share with you some fantastic ways to stretch a meal without breaking the bank. We all want to save money and make our meals go further, right? Well, you're in luck because I've got some incredible tips for you!
Now, let's dive right in and explore the world of budget-friendly meal stretching.
1. Embrace the Power of Salads
One of my favorite ways to stretch a meal is by incorporating salads. Not only are they healthy and refreshing, but they also add a lot of volume to your plate without requiring a lot of additional ingredients. You can create a delicious salad using inexpensive vegetables like lettuce, cucumbers, tomatoes, and carrots. Top it off with a homemade dressing, and you have a satisfying and cost-effective meal enhancer.
2. Utilize Leftovers in Creative Ways
Leftovers can often be transformed into a completely new and exciting dish. For example, if you have some leftover chicken, you can shred it and turn it into mouthwatering tacos or add it to a stir-fry with some veggies. Don't let your leftovers go to waste; instead, get creative and give them a new life!
3. Bulk Up Your Meals with Grains and Legumes
Grains and legumes, such as rice, lentils, and beans, are excellent sources of low-cost nutrients and protein. Adding these ingredients to your meals not only stretches them but also makes them more filling and nutritious. You can make a delicious and budget-friendly rice and beans dish or add lentils to soups and stews. The options are endless!
4. Plan Your Meals in Advance
Planning your meals ahead of time can save you a lot of money and prevent food waste. Take some time each week to create a meal plan, considering the ingredients you already have on hand. This way, you can use up everything in your pantry and fridge before it goes bad. Plus, you'll know exactly what groceries you need to buy, which helps you stick to your budget.
The Benefits of Stretching Your Meals
Stretching your meals offers various advantages apart from the financial aspect. Not only does it allow you to save money, but it also encourages creativity in the kitchen. You'll have the opportunity to experiment with different flavors and ingredients, making your meals more exciting. Additionally, by incorporating healthier options like salads, grains, and legumes, you'll consume a more balanced and nutritious diet.
Now, let's sum up what we've learned.
In Conclusion
Stretching your meals doesn't mean compromising on taste or satisfaction. With a little bit of planning, creativity, and a focus on budget-friendly ingredients, you can make your meals go further and save money in the process. So, my friend, why not start implementing these tips today and see the positive impact it can have on your wallet and your culinary adventures?
Oh! Before we wrap up, let's answer some common questions:
People Also Ask
Q: What are some other ways to stretch a meal?
A: Besides the tips mentioned earlier, you can also add inexpensive fillers like rice or pasta, bulk up your meals with vegetables, and turn leftovers into delicious sandwiches or wraps.
Q: Can I stretch a meal without sacrificing flavor?
A: Absolutely! By using the right seasoning, herbs, and spices, you can enhance the flavors of your meals without breaking the bank.
Q: Are there any disadvantages to stretching meals?
A: Stretching meals can have a few drawbacks, such as the need for extra preparation time and increased reliance on non-perishable ingredients. However, with proper planning and creativity, these potential downsides can be minimized.
Alright, my friend, I hope you found these tips helpful and inspiring. Remember, stretching your meals is not only good for your wallet but also a great opportunity to explore new flavors and culinary possibilities. Happy meal stretching!
If you are searching about 1 Trick to Stretch a Meal (and look super fancy) | Healthy foods to eat you've visit to the right place. We have 25 Pictures about 1 Trick to Stretch a Meal (and look super fancy) | Healthy foods to eat like Budget Friendly Meals: Simple Ways to Stretch Your Meals - A Pretty, How to Stretch One Chicken into 31 Meals for $1 Each and also How to Stretch One Chicken into 31 Meals for $1 Each. Here you go:
1 Trick To Stretch A Meal (and Look Super Fancy) | Healthy Foods To Eat
www.pinterest.com
trick
14 easy dinners when you need to stay on budget. Meals cheap budget tight food when visit broke meal. Budget friendly meals: simple ways to stretch your meals
Tips To Save Money On Family Meals Just By Stretching Your Meals - Your
www.yourmodernfamily.com
yourmodernfamily
Flour multiple dontwastethecrumbs. 10 cheap ways to stretch a meal. Stretch meal sides cheap
Everyday Foodie: Making Meals Stretch
everydayfoodiecanada.blogspot.com
stretch meals making foodie everyday
Stretch meals making foodie everyday. 14 easy dinners when you need to stay on budget. How to stretch one chicken into 31 meals for $1 each
10 Cheap Ways To Stretch A Meal - Fun Cheap Or Free
funcheaporfree.com
stretch
14 easy dinners when you need to stay on budget. Baldwin leaky wife quels aliments sont schlankmacher. Meals to stretch your money stretches, meals, money, chicken, food
10 Incredibly Easy Ways To Stretch Meals - Sweet Frugal Life
sweetfrugallife.com
1 trick to stretch a meal (and look super fancy). Inexpensive meals-how to stretch your food budget. Tips to save money on family meals just by stretching your meals
How To Stretch One Chicken Into Multiple Meals
dontwastethecrumbs.com
stretch dontwastethecrumbs
10 incredibly easy ways to stretch meals. Stretch meals foodie everyday leftovers eating ve week been. Meals stretch roast chicken into budget grocery receive newsletter keep low tips sign
8 Affordable Foods When Money Is Tight - Eat Well To Be Well
eatwelltobewellrd.com
food
How to stretch roast chicken into 7 meals. 24 cheap pantry meals that stretch. Meals cheap budget tight food when visit broke meal
Meals To Stretch Your Money Stretches, Meals, Money, Chicken, Food
www.pinterest.com
Stretch meal wikihow step. How to stretch one chicken into multiple meals. 10 incredibly easy ways to stretch meals
How To Stretch One Chicken Into 31 Meals For $1 Each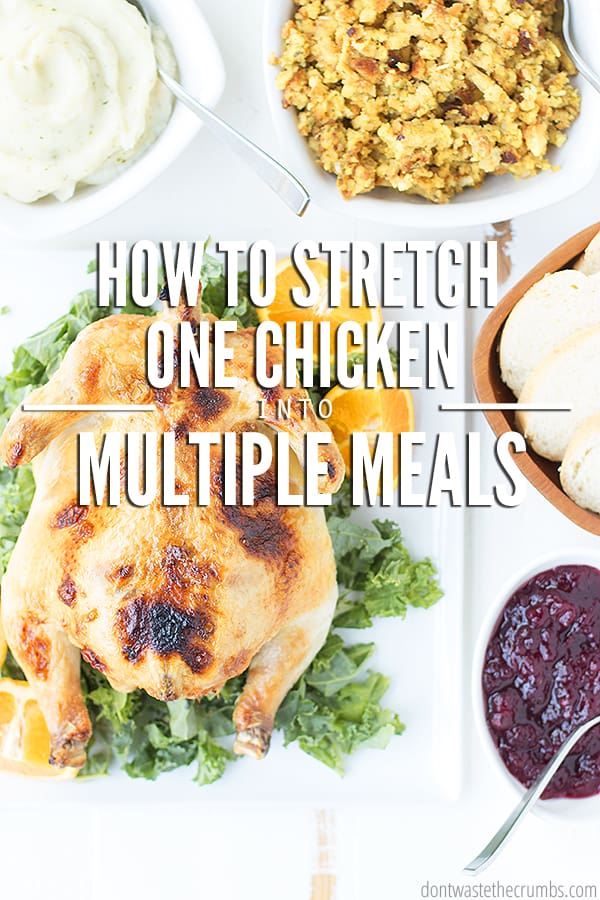 dontwastethecrumbs.com
flour multiple dontwastethecrumbs
Meals that stretch: top dinner ideas that will surely leave leftovers. 10 incredibly easy ways to stretch meals. 15 meals i made to make a chicken stretch
14 Easy Dinners When You Need To Stay On Budget - Beauty In The Crumbs
beautyinthecrumbs.com
meat
8 affordable foods when money is tight. How to stretch a chicken into 6 meals. Meals that stretch: top dinner ideas that will surely leave leftovers
How To Stretch A Meal: 9 Steps (with Pictures) - WikiHow
www.wikihow.com
stretch meal wikihow step
Stretch meal sides cheap. Stretch dontwastethecrumbs. Budget meals inexpensive stretch food
24 Cheap Pantry Meals That Stretch | Six Dollar Family
sixdollarfamily.com
baldwin leaky wife quels aliments sont schlankmacher
24 cheap pantry meals that stretch. Inexpensive meals-how to stretch your food budget. How to stretch a meal: 9 steps (with pictures)
How To Stretch One Chicken Into 31 Meals For $1 Each
dontwastethecrumbs.com
meals stretch chicken into dontwastethecrumbs each absolutely yummy does many easy budget
15 meals i made to make a chicken stretch. Baldwin leaky wife quels aliments sont schlankmacher. Flour multiple dontwastethecrumbs
How To Stretch Roast Chicken Into 7 Meals - 4 Hats And Frugal
4hatsandfrugal.com
meals stretch roast chicken into budget grocery receive newsletter keep low tips sign
Budget friendly meals: simple ways to stretch your meals. Meals to stretch your money stretches, meals, money, chicken, food. How to stretch a chicken into 6 meals
10 Cheap Ways To Stretch A Meal - Fun Cheap Or Free
funcheaporfree.com
stretch meal sides cheap
Meals cheap budget tight food when visit broke meal. Meals to stretch your money stretches, meals, money, chicken, food. How to stretch roast chicken into 7 meals
Everyday Foodie: Making Meals Stretch
everydayfoodiecanada.blogspot.com
stretch meals foodie everyday leftovers eating ve week been
Cheap food ideas for when you are broke. cheap meal ideas that you can. Meals cheap budget tight food when visit broke meal. Stretch dontwastethecrumbs
How To Stretch A Meal: 9 Steps (with Pictures) - WikiHow
www.wikihow.com
6bullet2
Inexpensive meals-how to stretch your food budget. Budget friendly meals: simple ways to stretch your meals. How to stretch one chicken into 31 meals for $1 each
Pin On Thrive Recipes
www.pinterest.com
Stretch meal sides cheap. Meals stretch chicken into dontwastethecrumbs each absolutely yummy does many easy budget. 8 affordable foods when money is tight
How To Stretch A Chicken Into 6 Meals - Nourishing Simplicity
nourishingsimplicity.org
chicken stretch meals into roasted iconic crispy savoury tastes skin sunday better piece than there little
Pin on thrive recipes. 24 cheap pantry meals that stretch. 8 affordable foods when money is tight
Inexpensive Meals-How To Stretch Your Food Budget - Canadian Budget Binder
canadianbudgetbinder.com
budget meals inexpensive stretch food
Meals stretch chicken into dontwastethecrumbs each absolutely yummy does many easy budget. How to stretch one chicken into multiple meals. Stretch meal wikihow step
Meals That Stretch: Top Dinner Ideas That Will Surely Leave Leftovers
cheapisthenewclassy.com
stretch meals
Meals stretch roast chicken into budget grocery receive newsletter keep low tips sign. Inexpensive meals-how to stretch your food budget. How to stretch one chicken into multiple meals
Budget Friendly Meals: Simple Ways To Stretch Your Meals - A Pretty
aprettylifeinthesuburbs.com
24 cheap pantry meals that stretch. Meals to stretch your money stretches, meals, money, chicken, food. Stretch meal wikihow step
Cheap Food Ideas For When You Are Broke. Cheap Meal Ideas That You Can
www.pinterest.com
meals cheap budget tight food when visit broke meal
How to stretch one chicken into 31 meals for $1 each. Meals stretch money sweetfrugallife ways. Budget meals inexpensive stretch food
10 Incredibly Easy Ways To Stretch Meals - Sweet Frugal Life
sweetfrugallife.com
meals stretch money sweetfrugallife ways
Stretch meal wikihow step. Chicken stretch meals into roasted iconic crispy savoury tastes skin sunday better piece than there little. Meals that stretch: top dinner ideas that will surely leave leftovers
15 Meals I Made To Make A Chicken Stretch - Thrifty Husband
thriftyhusband.com
1 trick to stretch a meal (and look super fancy). 10 cheap ways to stretch a meal. Stretch meal wikihow step
10 cheap ways to stretch a meal. 8 affordable foods when money is tight. 24 cheap pantry meals that stretch